BURLAP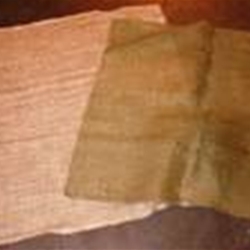 For generations, burlap has stood as a testament to durability and eco-consciousness. Valued for its robustness and natural composition, it has found its rightful place in packaging, particularly within the construction and nursery sectors.
At Central Ohio Burlap, we take pride in supplying premium burlap to industry leaders in both construction and horticulture.
Why Choose Our Burlap?
Tradition Meets Modernity: While burlap boasts a rich history, our offerings are tailored to modern needs, ensuring you get the best of both worlds.
Variety: Available in both treated and untreated forms. Whether you're looking for protection from elements or a more natural touch, we've got the perfect fit.
Customizable Sizes: We stock burlap in a range of sizes and widths, available in rolls and squares, ensuring you always find what you need.
Save More with Bulk: The more you buy, the more you save! Call for quantity discounts for larger orders.
Contact us at 800-798-9405 or 614-294-4495 to learn more about our burlap and find the perfect solution for your needs.