NATURAL KRAFT BAGS WITH FOIL LINING & DEGASSING VALVE - 3-3/8"x2-1/2"x13"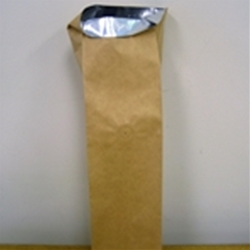 Our 3-3/8"x2-1/2"x13" Natural Kraft Bags with Foil Lining and Degassing Valve are ideal for packaging freshly roasted coffee beans, ensuring that the aromatic flavors are sealed in while the degassing valve releases the natural gasses from the beans without letting air in.
500 bags per case.
Sample available upon request.
Please note that prices are subject to change without notice.